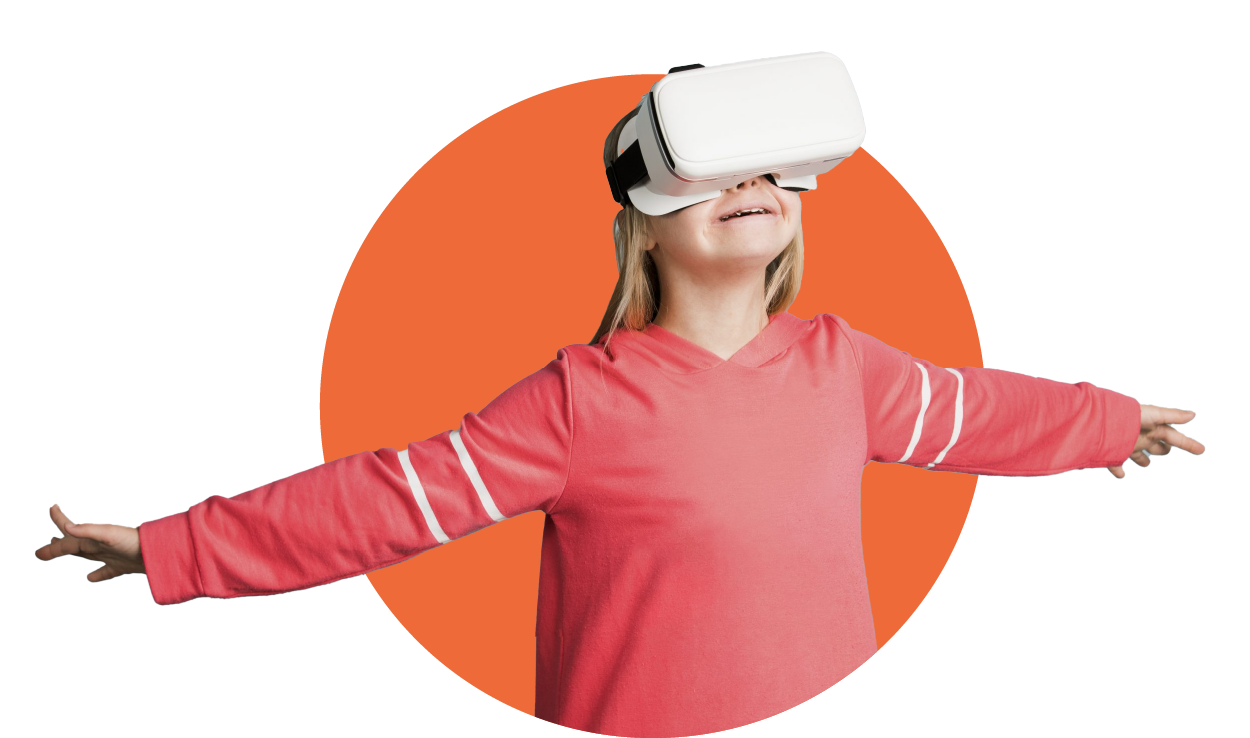 Changing the ratio
together
Tech She Can Impact Report 2022
Together, we've achieved even more than we thought possible in this last year.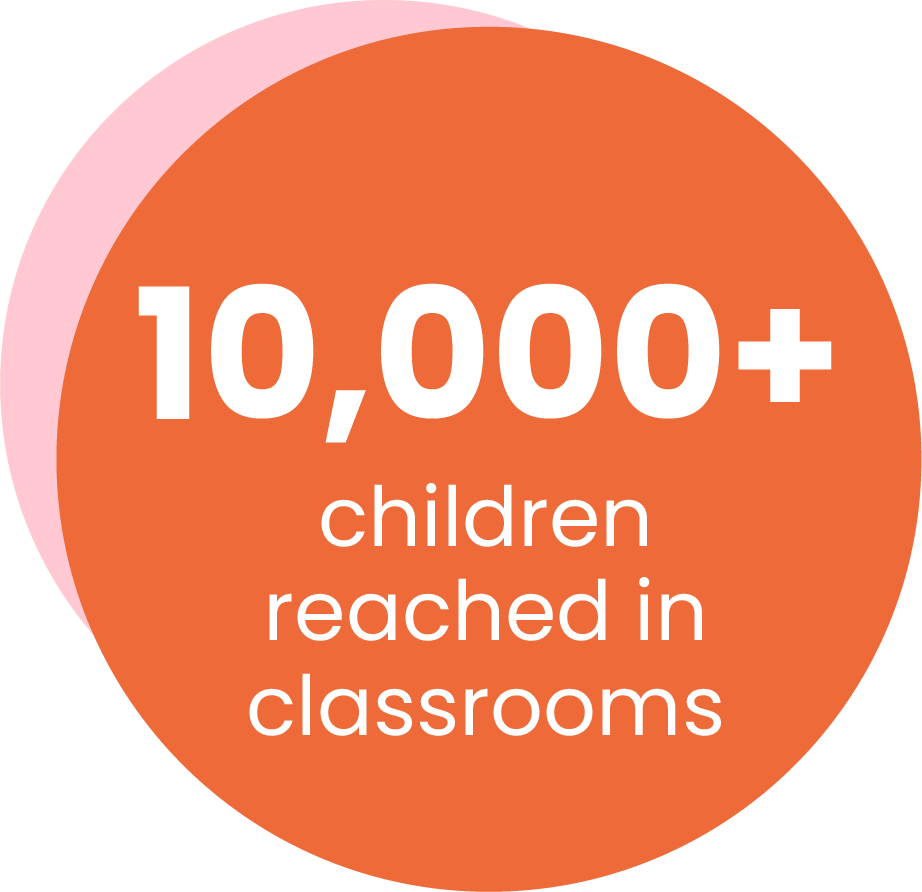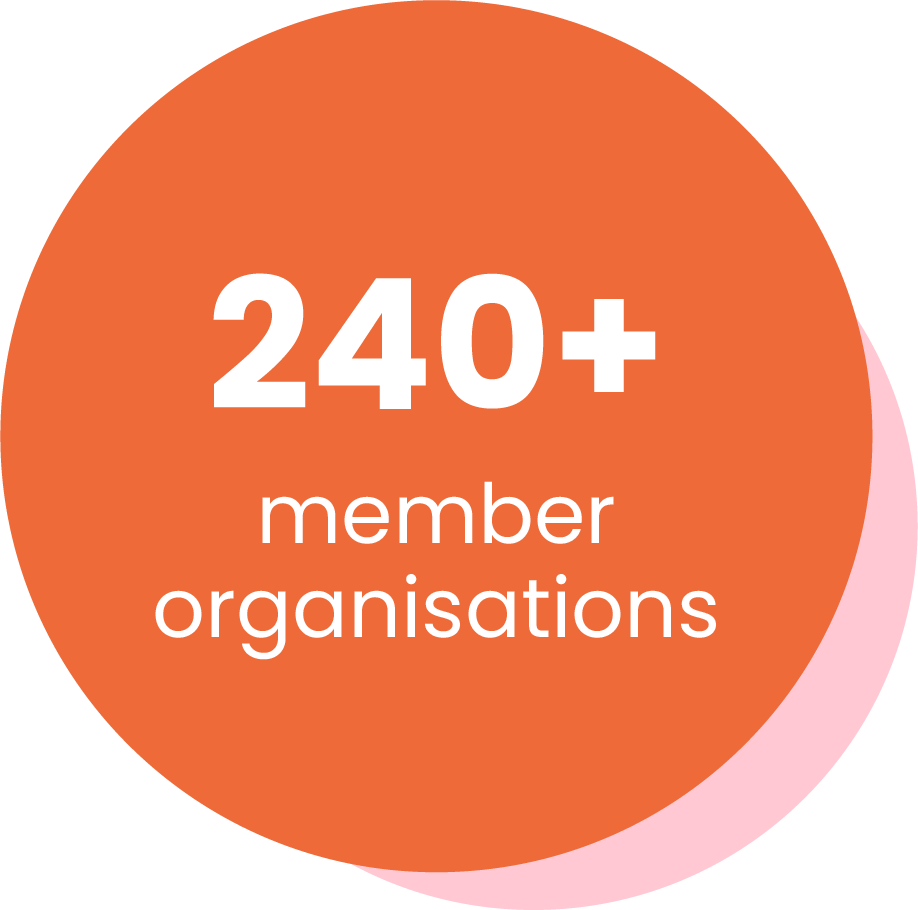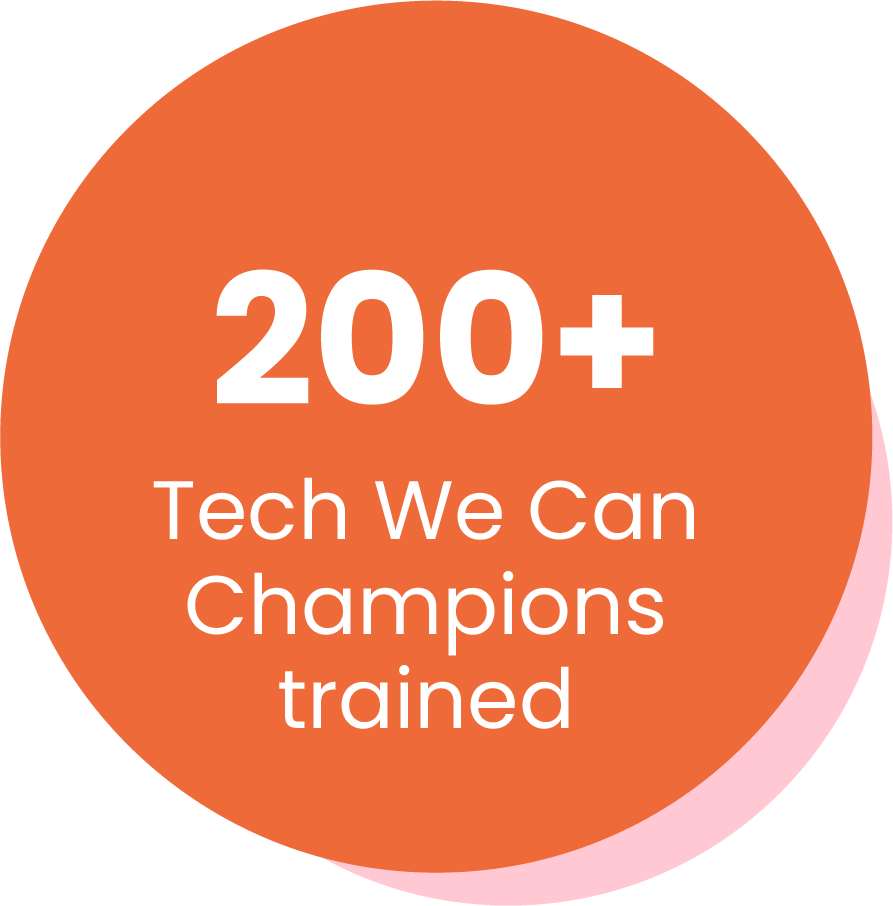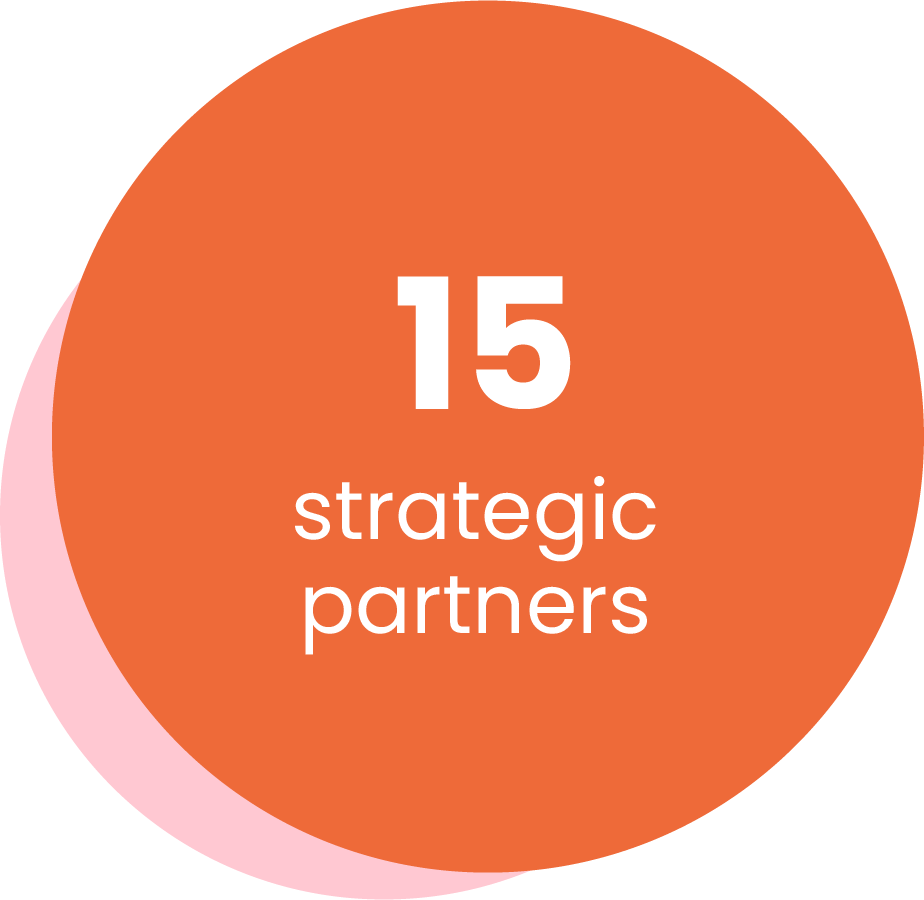 With our growing community of member organisations and partners, we're delivering on our ambition to attract more women and girls into technology careers - ultimately changing the ratio of women in tech.
This year, we've focused on growing our education programme, Tech We Can. Early education and inspiration is, and will continue to be, at the heart of what we do.
We've also been working on developing pathways that support women to get into tech across all stages of their careers.
Read on to explore the difference we've made during Tech She Can's first year as a charity.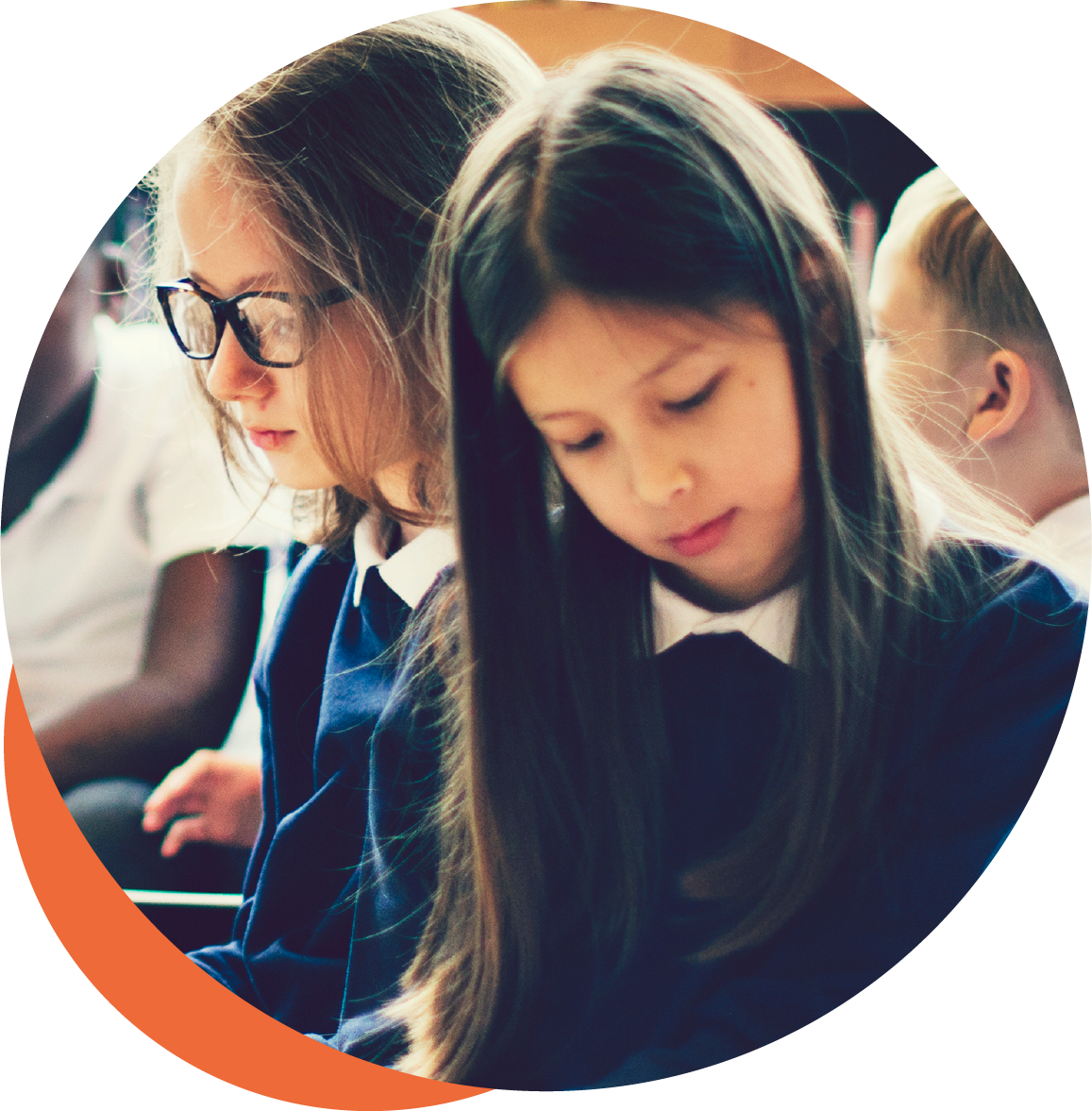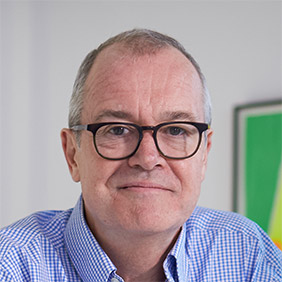 "It is crucial that we inspire and encourage more girls and women into technology roles because we cannot tackle society's difficult problems if we don't draw from talent which represents all of society."
Sir Patrick Vallance, Government Chief Scientific Adviser and National Technology Adviser
Our mission for
an equal future
We're a small charity on a big mission: to help everyone have the opportunity to participate in developing and creating the technology that shapes our world, ensuring it works for all.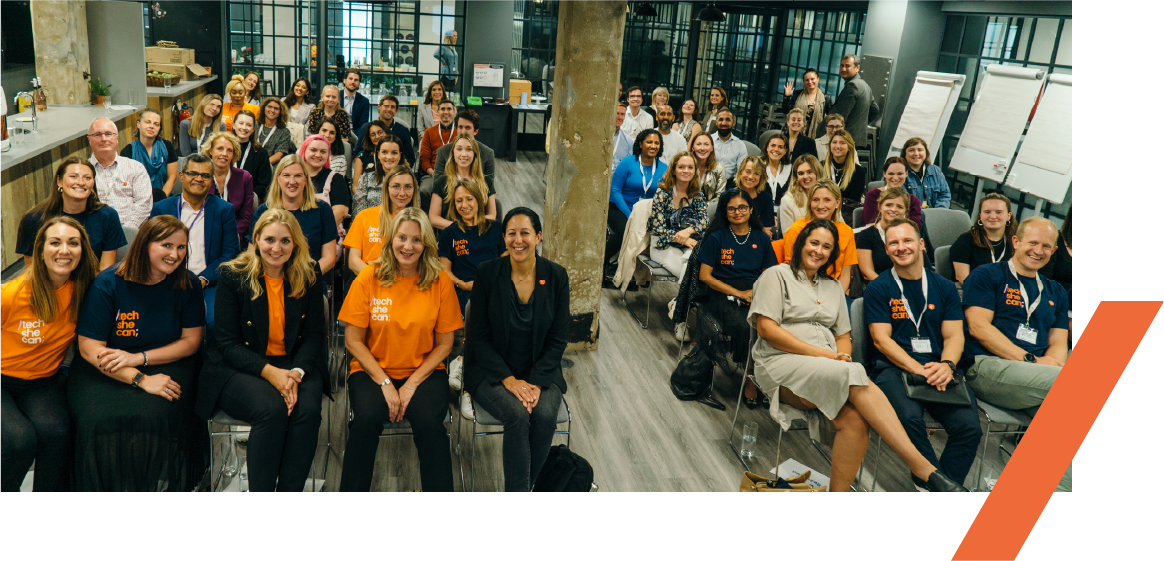 Starting out as a group of like-minded individuals from multiple firms, we became an independent charity in July 2021 to be able to grow and extend our reach and impact.
By bringing together the collective experience and expertise of our current 242 member organisations, we're now uniquely positioned to provide initiatives and pathways into technology careers across the key moments that matter in girls' and women's lives.
During our first year as a charity, we've focused our efforts on the following areas:
1.


Enriching education

Extending our school programme to reach more children across the UK through a regional, place-based approach - with new resources covering a wider age range, new forms of engagement and a national champion scheme for volunteers.
2.


Pathways

Delivering tech career insights experiences to young women and teachers; and developing apprenticeships to attract, upskill, nurture and retain women of all ages into tech roles.
3.


Influencing change

Using our power of collaboration to build a diverse community of members and external networks in order to change the ratio of women in tech and make a positive and lasting difference to women's and girls' lives.
In this report, we highlight the impact we've made in our first year in each of these three areas - and show how, through collaboration, we're helping to create a more diverse, inclusive and purpose-led technology industry.
Our impact
1.
Enriching education
Technology is pervasive across every aspect of our lives today. To ensure that all children are able to participate in the jobs of the future, we need to educate and excite them about technology, and the people who develop it, from an early age - before stereotypes set in.
Tech We Can education programme
One of our key objectives this year has been to expand our Tech We Can free educational programme - creating new content aimed at younger age groups and extending our outreach to inspire more children across the UK, especially in social mobility 'cold spots'.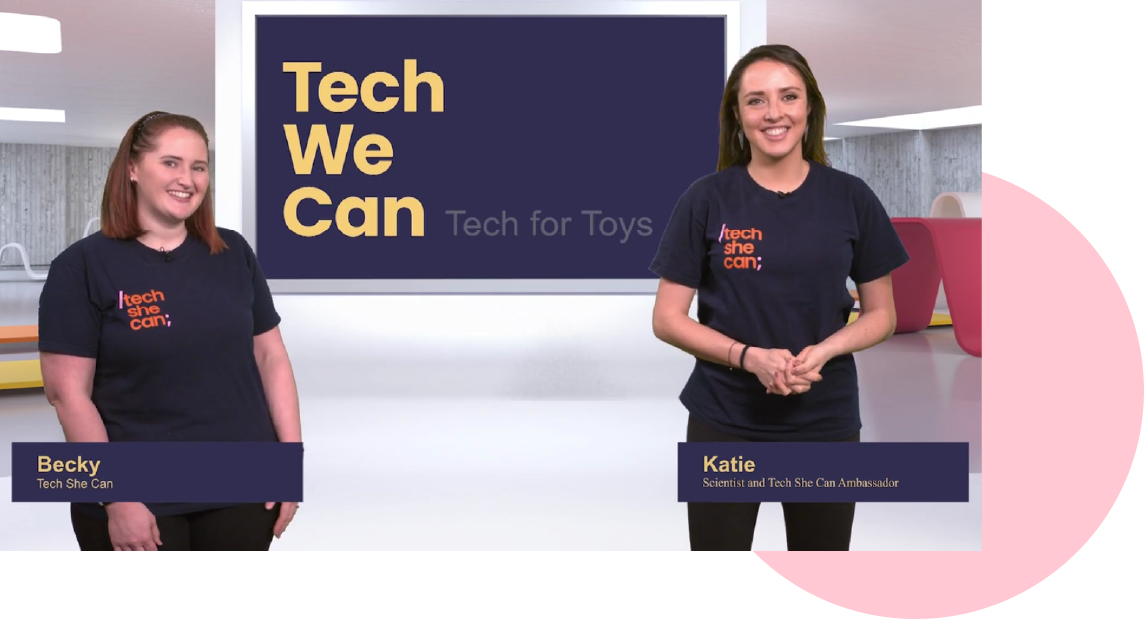 Our Tech We Can free schools offer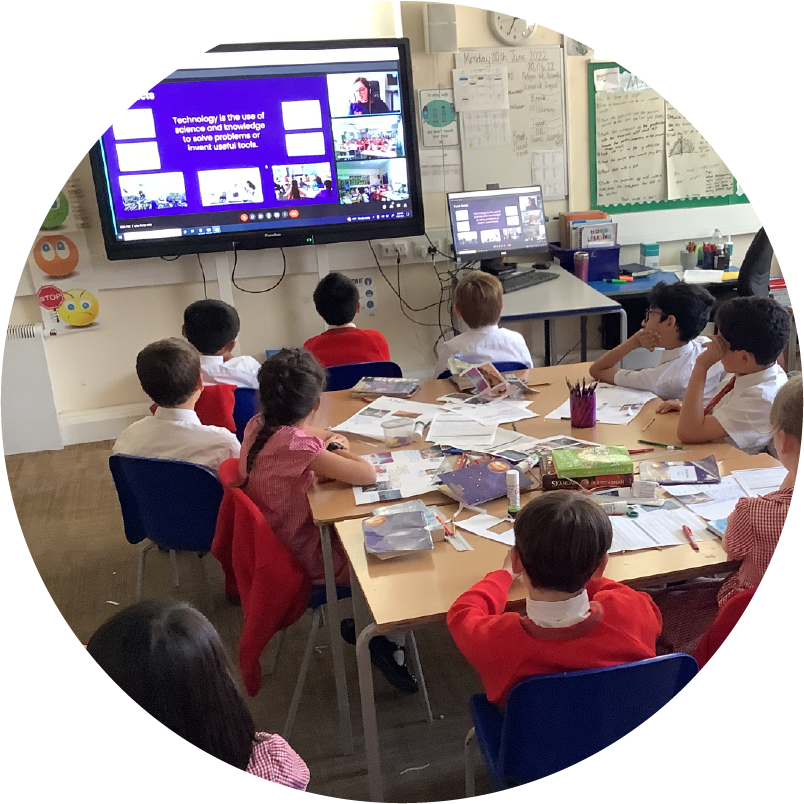 5 - 8 years
Award-winning animated lessons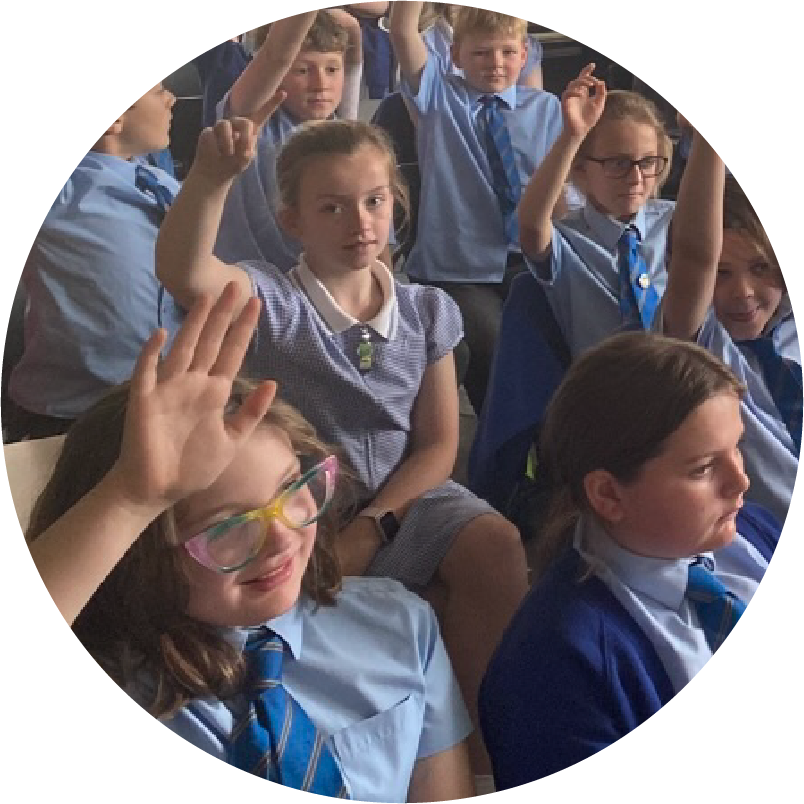 8 -14 years
On-demand video lessons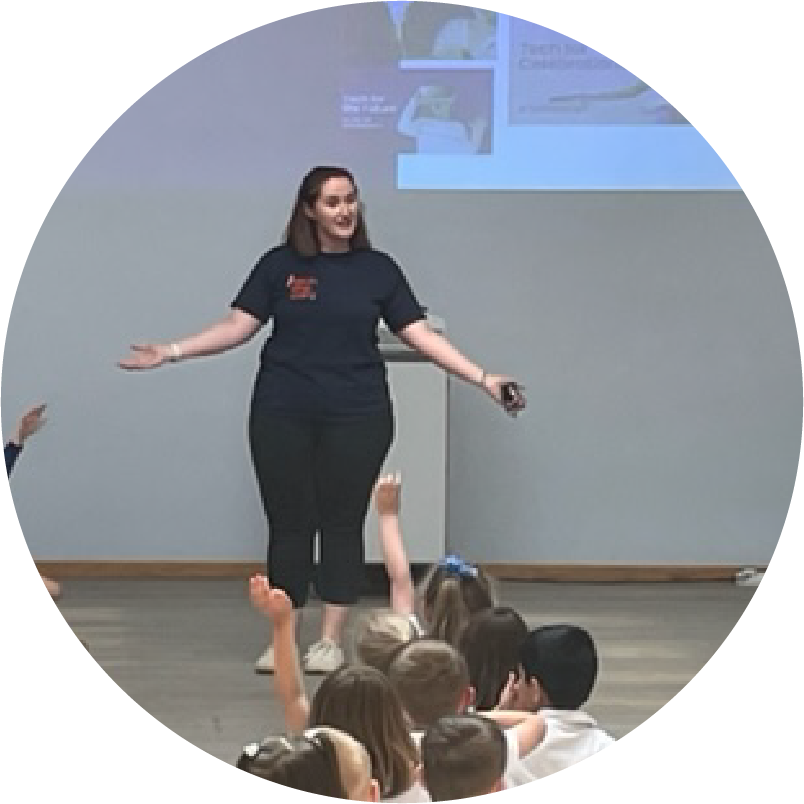 Teachers & parents
Themed lesson packs
Champions
Training and resources
Inspiring younger age-groups
Alongside our existing Tech We Can lesson packs and on-demand video content for children aged 8 - 14, we created a new animated series for children aged five and above, covering a variety of cross-curricular tech topics.
Our strategic partners have been instrumental in shaping this series. They've provided funding, shared their specialist knowledge of the technology featured, and nominated women role-models from their organisations to feature in the animations, bringing the topics and the jobs they do to life. To date, we've created animations spanning robotics and AI, autonomous shopping, virtual reality, cashless payments and drones in collaboration with UST, Natwest, and PwC UK. And we have more in the pipeline, including one currently in development with Computeam.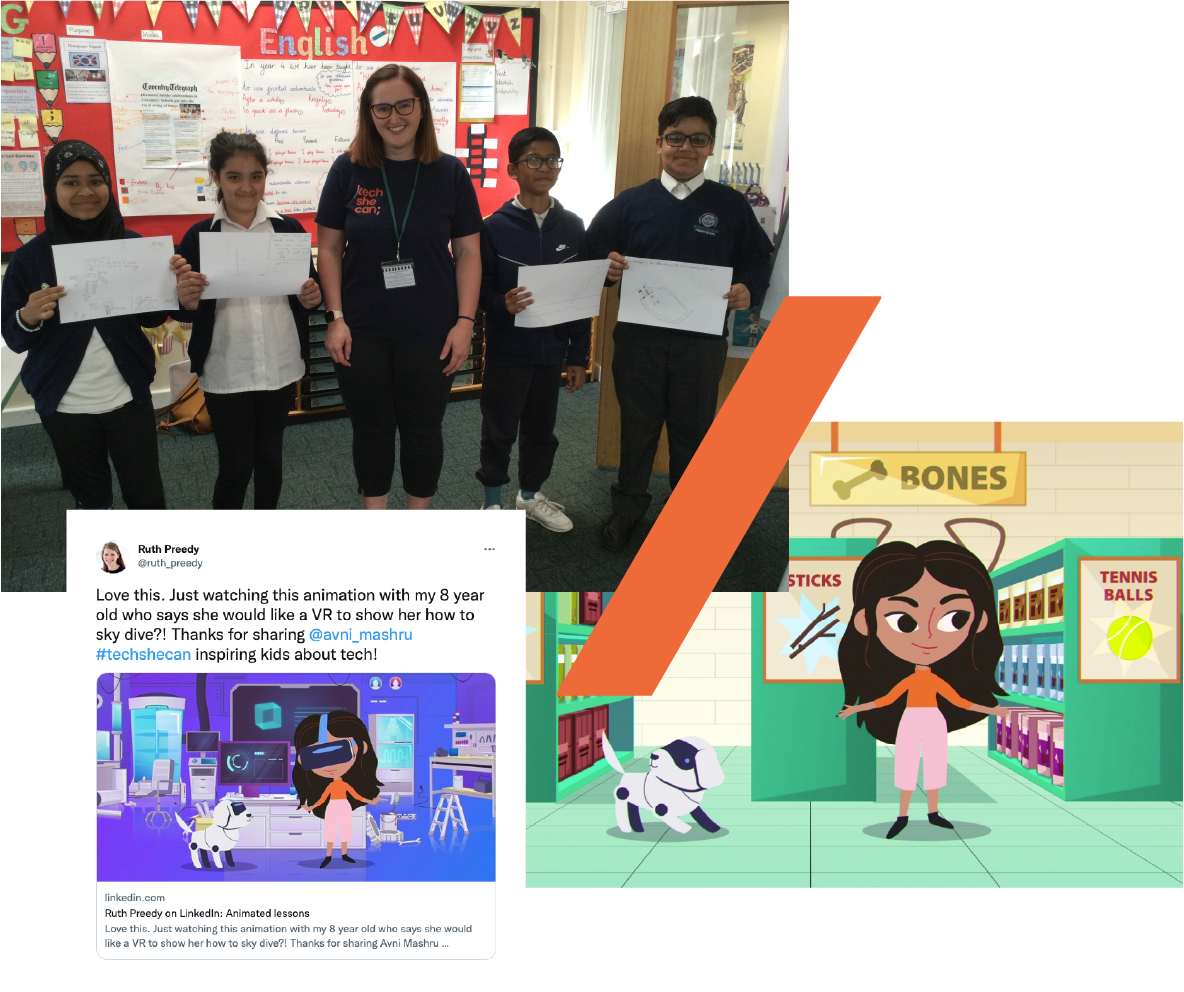 An award-winning programme
As well as receiving high praise from children, teachers and parents alike, the animations were recognised in the 2022 Vega Digital Awards, achieving first place in both the Animated and Educational Video Series categories.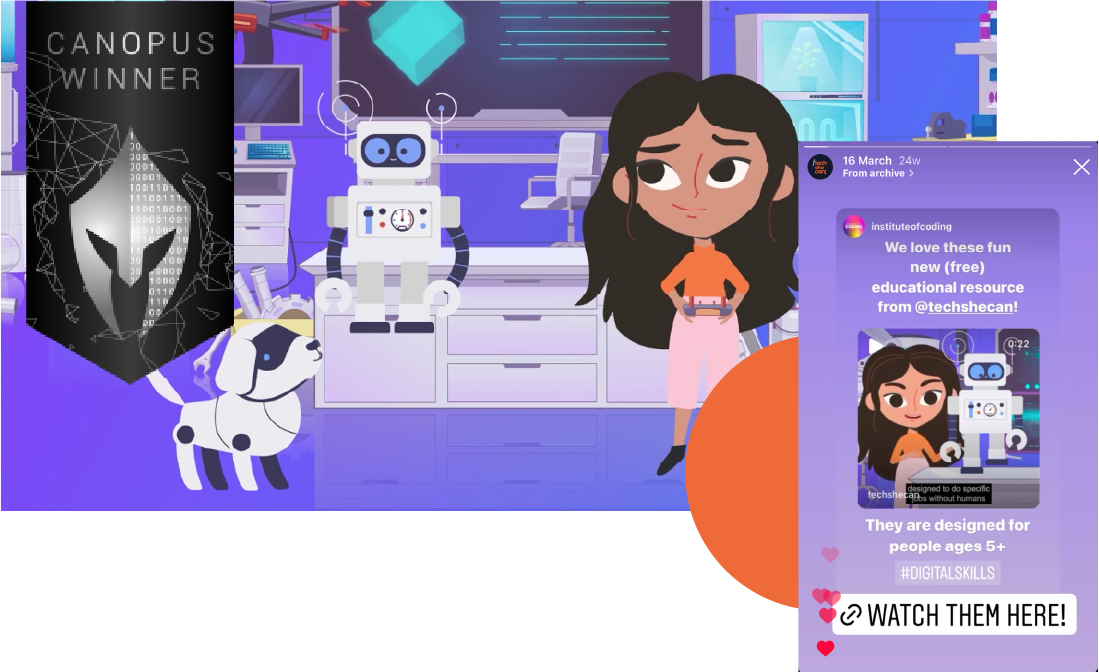 Tackling stereotypes
Our programmes are working and we're changing childrens' perceptions of technology careers. This image shows what a student thought of as a 'tech worker' before and after our Tech We Can lessons. From imagining a man in a suit who was antisocial and worked alone, after the lessons, she could see herself as a social media manager at Facebook, and realised her love of English could lead her to a job in tech.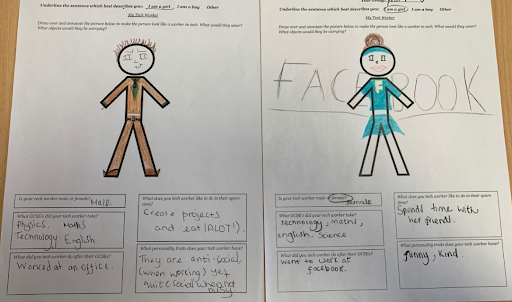 Scaling our reach
In order to inspire more children across the UK, we launched a volunteer programme - training individuals in our member organisations to become Tech We Can Champions through a partnership with STEM Learning and its STEM Ambassador programme.
These role models deliver our lesson materials in classrooms and draw on their real life experiences to challenge and change children's perceptions of tech subjects and tech careers. Since January, we've trained more than 200 champions across the UK, in collaboration with our members who have enabled their employees to train, offer their time and share their passion for tech. The support and demand for this volunteer scheme has surpassed our expectations with many organisations formally embedding it within their CSR activities.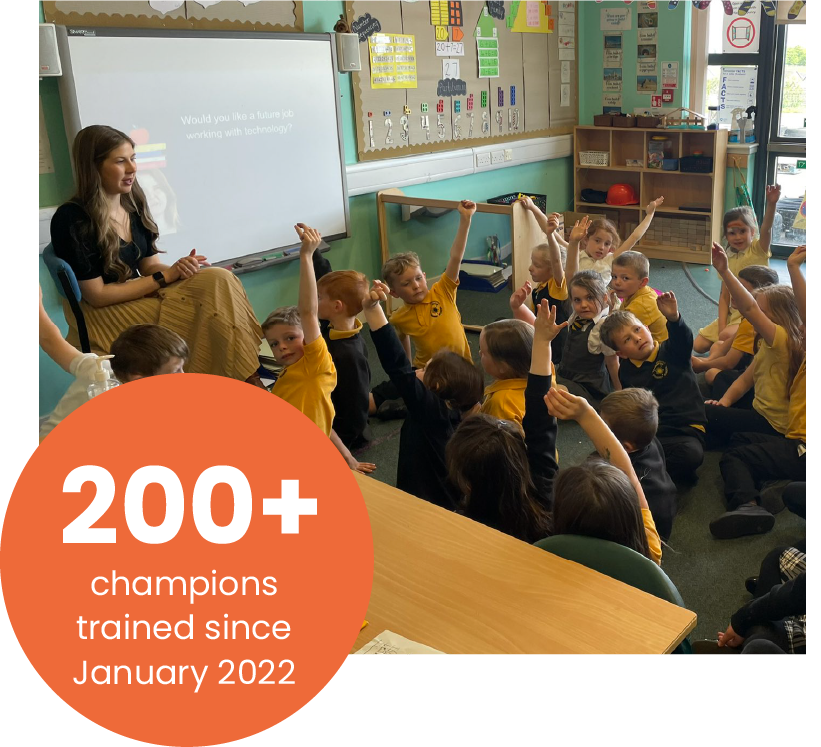 "I want to be the role model I didn't have when I was younger and that's exactly what being a Tech We Can Champion allows me to do."
Abbie McCallum, Graduate Software Engineer at NatWest Group
National reach and free for all
All our online resources are free and open to everyone, and our direct outreach to schools is informed by the UK government's Social Mobility Index so that we can make the biggest difference in the classroom. We focus on delivering tech lessons in social mobility 'cold spot' areas where children have "less opportunity to acquire the education and skills they need to achieve good adult outcomes".
Together with our champions, we're proud to have delivered Tech We Can lessons to more than 10,000 children in the UK in just four months during 2022 - reaching classrooms from the Channel Isles, across the Midlands, and up to Shetland!
And our ambitions don't stop there. We've already started to spread our Tech We Can message beyond the UK, with a successful pilot recently delivered in Ireland with PwC, a selection of our resources kindly translated into Polish by Credit Suisse, and work currently underway by NatWest to translate more into Ukrainian.
Beyond this, we've partnered with others to enable them to link to or host our resources on their own platforms. These partners and third parties include Children's University, Engineering UK (Neon Platform), J2e (Just 2 Easy), National Careers Week, Natterhub and Skills Development Scotland.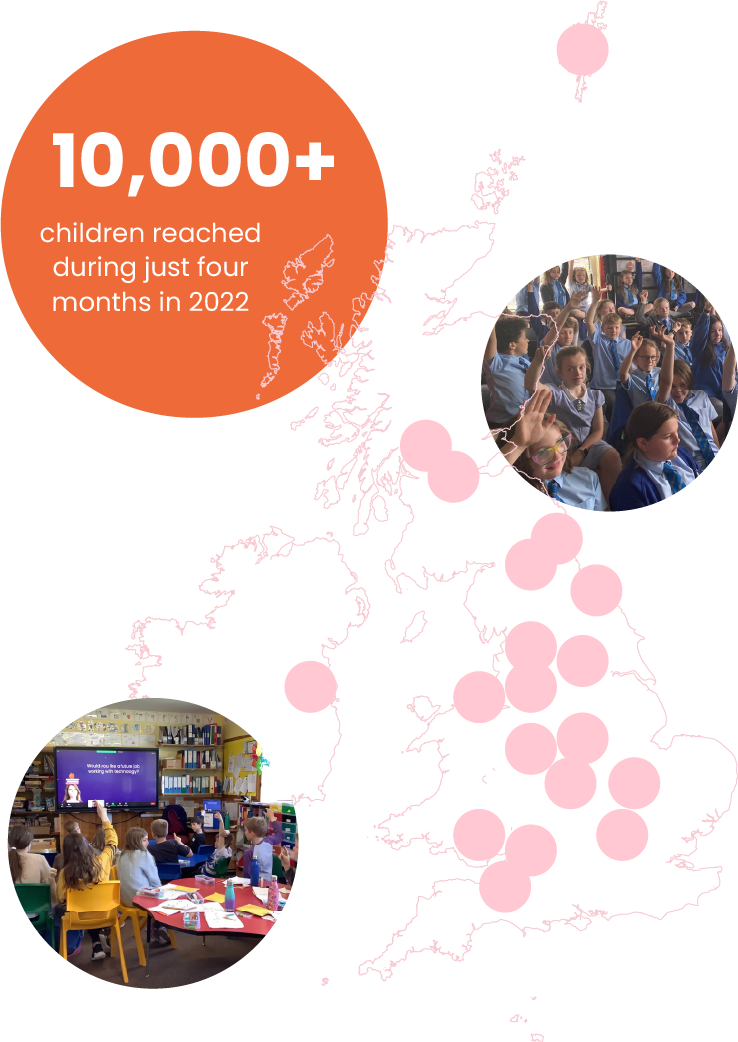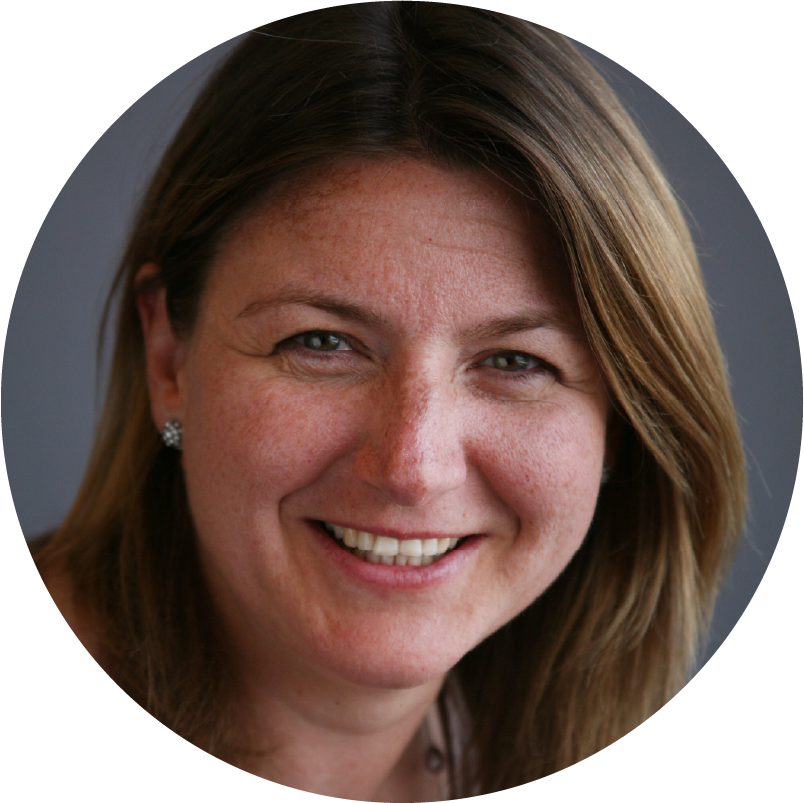 "As a global bank on a digital journey consistently seeking top tech talent, it's imperative to generate early interest to fuel the pipeline"
Laura Barrowman, Chief Information Officer at Credit Suisse
Showcasing and celebrating young women in tech
A lack of relatable role models is often cited by women and girls as a key reason for not pursuing a career in technology. But we know there are many inspirational, diverse young women working in the tech industry, in a variety of roles and across different sectors. We set about finding them so we could share their personal stories and inspire other young women and girls about a career in tech.
On International Women's Day this year, the Secretary of State for Digital, Culture, Media and Sport launched our 'Young Women in Tech' role model video campaign in collaboration with Workfinder, everywoman and WeAreTechWomen. Aimed at children aged 8 -14 and young adults aged 15+, this video collection features young women talking about their jobs working in tech, helping to dispel some of the myths around what a tech career entails and also highlighting the various pathways to get into tech.
Again, our member organisations played a key role in making this happen - connecting us with their employees who had a story to tell. In turn, the campaign provides a unique platform for them to showcase their varied job opportunities, pathways, talent and culture.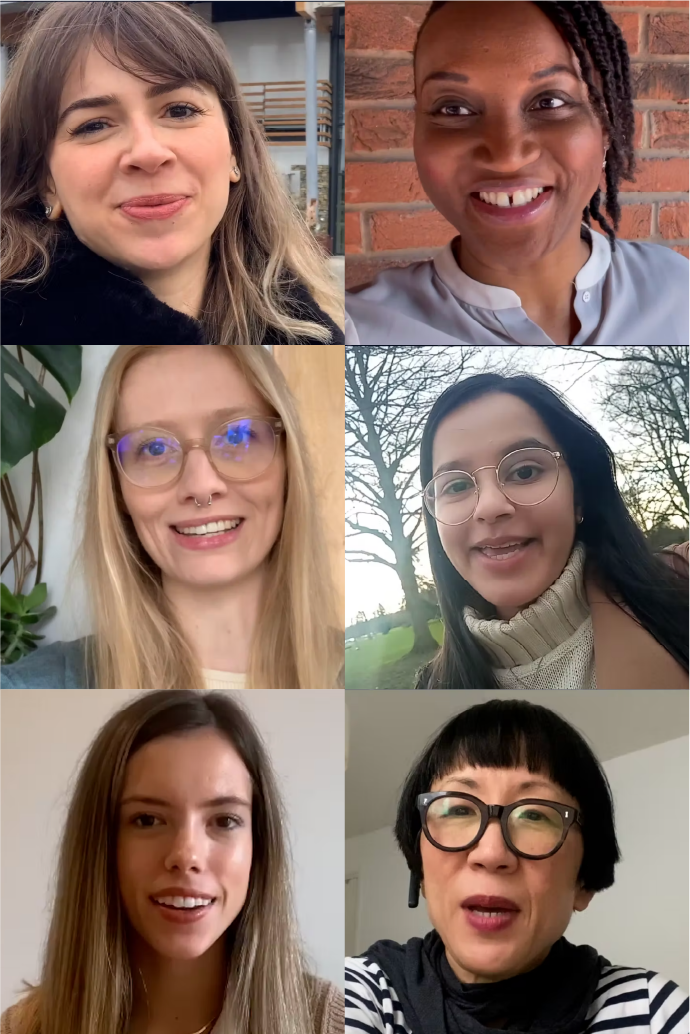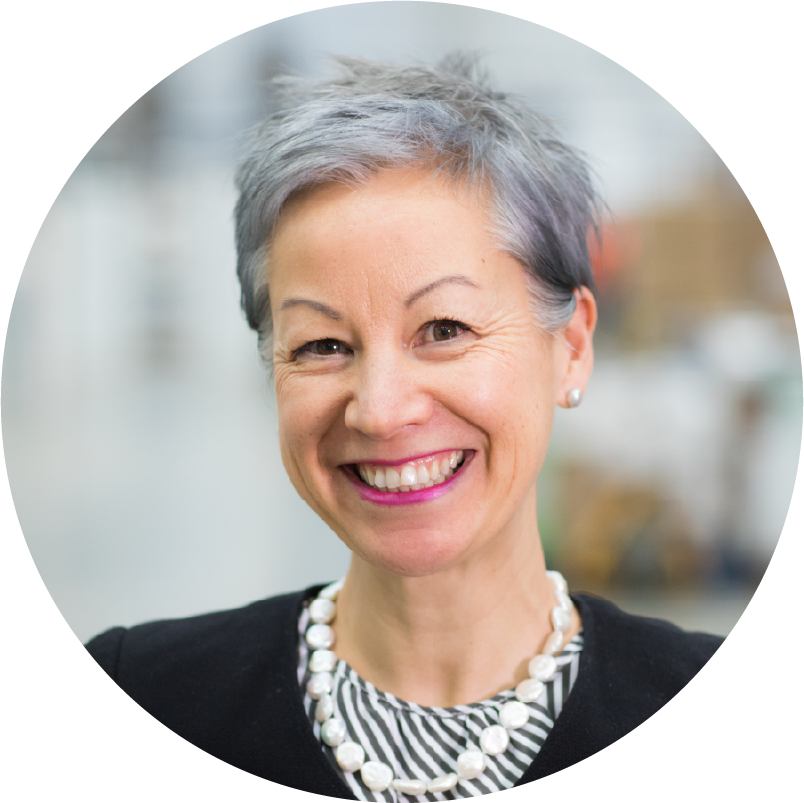 "For any girls out there asking, "what can I be when I grow up?", these short videos are such a valuable resource."
Jacqueline de Rojas CBE, President of Digital Leaders & Co-Chair Institute of Coding, Board Member techUK
Today's children are tomorrow's workforce - and, through our work with schools and children, we're investing in the long-term talent pipeline in 10-15 years' time.
However, we also see the urgent need to address the tech skills gap that threatens the growth and relevance of organisations across the UK today. In response, we've been working with our members and partners to deliver tech career insights experiences to young women and teachers. And we've started work this year to develop a new apprenticeship model - to attract, upskill, nurture and, crucially, retain diverse cohorts of women in technology roles, at all levels.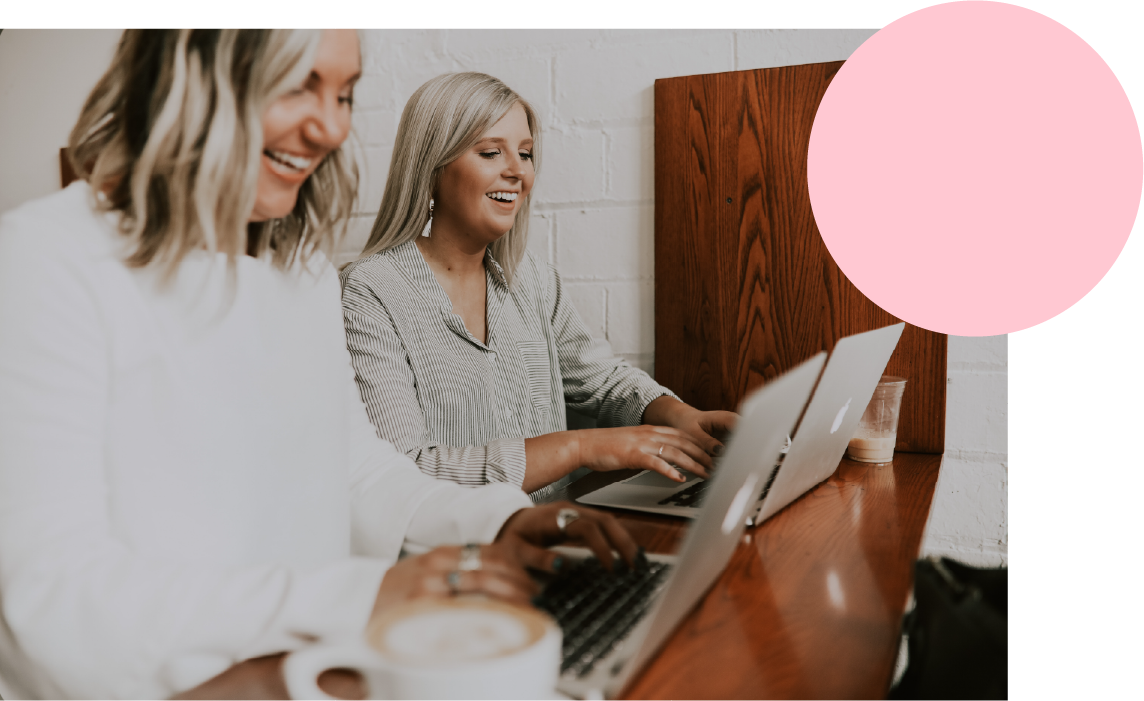 Plugging the immediate skills gap
During 2021, we piloted Careers Insight Days on a small scale, opening the doors of our member organisations to young people who might not usually have access to them and giving them a taste of what a technology career can entail. More recently, we've established a strategic partnership with Deutsche Bank and are working together to create Insight Days which offer a unique 'behind-the-scenes' experience for both young students and teachers. In the year ahead, we'll deliver these days together to educate and inspire students about pursuing a tech career within this type of organisation.
We've also established UK-wide partnerships with three distinct apprenticeship providers - Multiverse, Makers and Corndel - to develop an offering that covers all the key 'moments that matter' in a woman's career journey after school. So whether someone's a school leaver, career-switcher, or looking to return into the workforce later in life, we'll have a programme that matches their needs.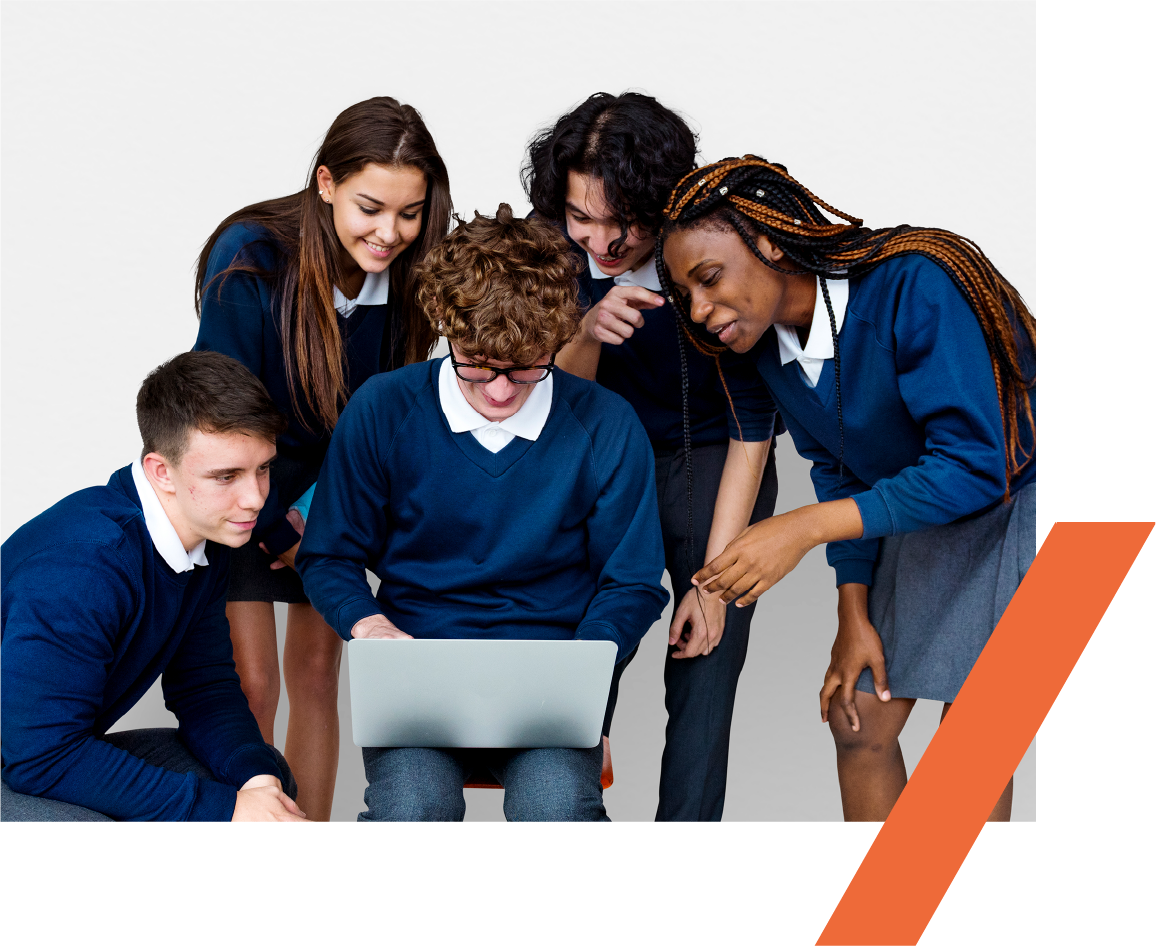 In May 2022, we launched this apprenticeship scheme as a pilot to our member organisations and are now working with them to co-design and formally launch it. This will be an important focus area for us in the year ahead.
We're also working on creating a seamless, transparent mechanism for our member organisations to share their 'surplus' apprenticeship levy, repurposing it to fund tech apprenticeships with other like-minded members.
We'll continue to build on these partnerships focusing on pathways into tech in the year ahead and are excited to see them progress. We're also looking forward to working with new strategic partners, the University of Birmingham - helping more women in the region to upskill and secure jobs in technology, and expanding our existing Birmingham Digital Futures programme with them and PwC.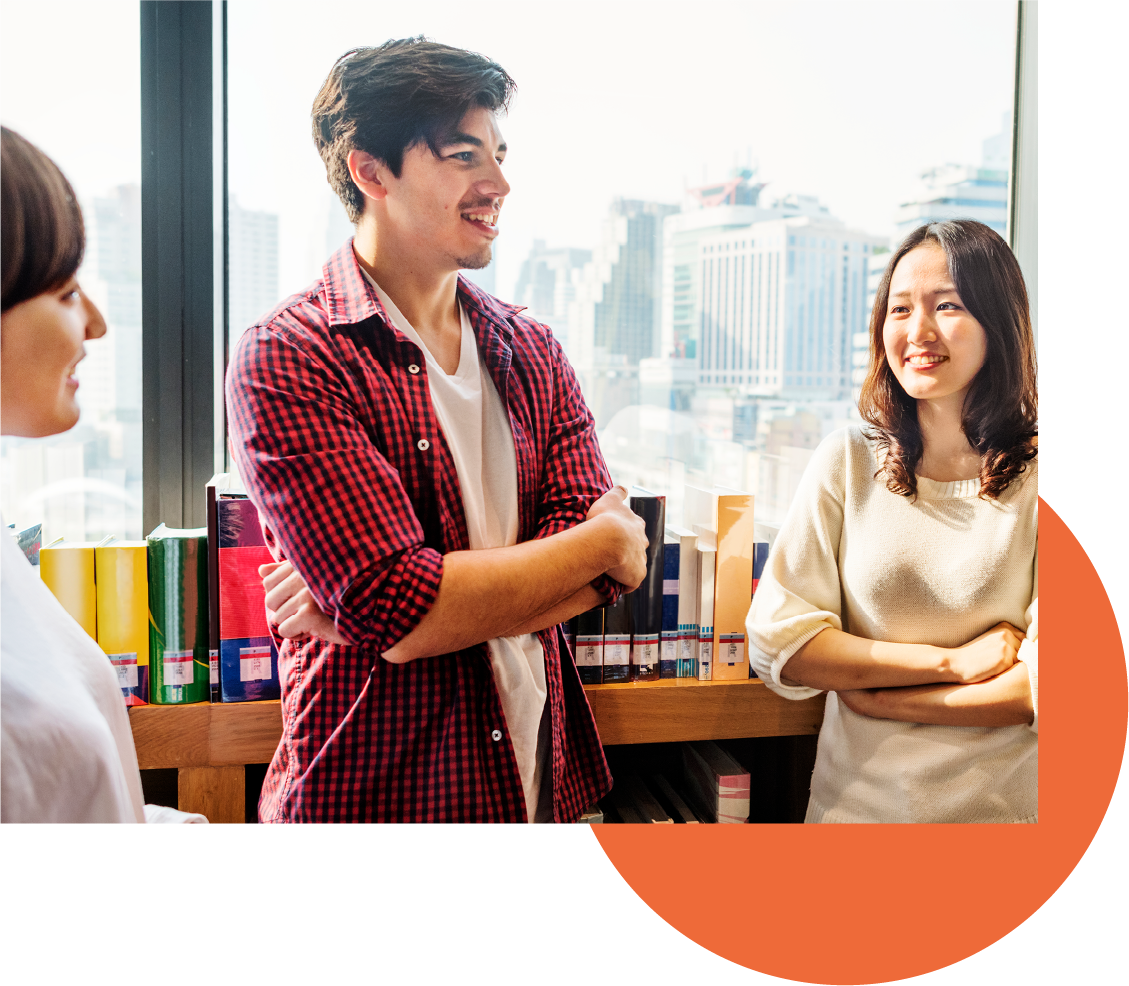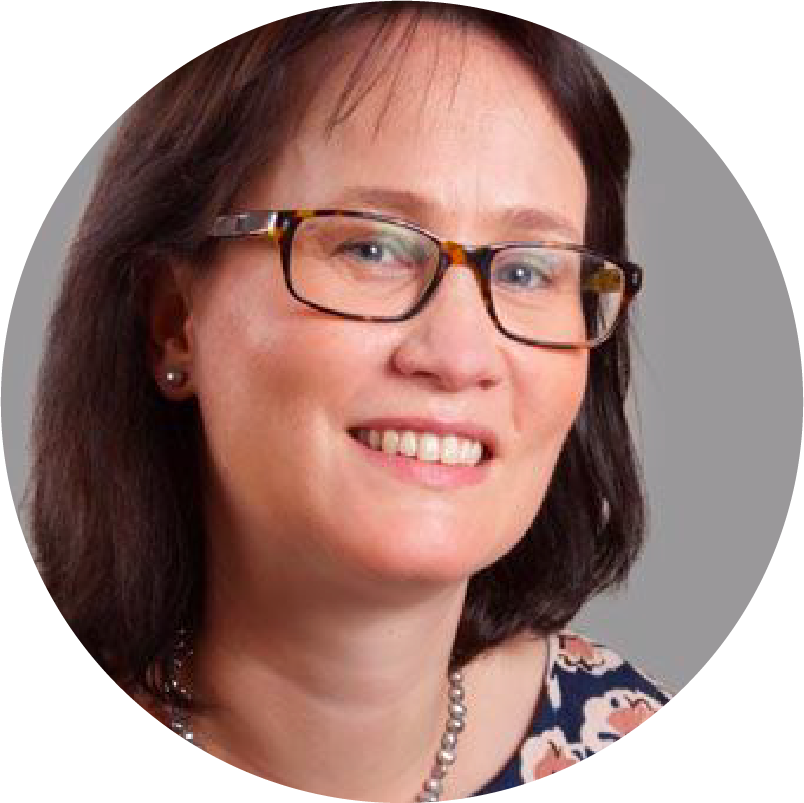 "We must break the cycle; too few women in tech careers deters other women from the prospect of such a career."
Professor Nicola Wilkin, Director of Education, Engineering and Physical Sciences, University of Birmingham
Diversifying, growing and sustaining our community
As well as being guaranteed employment at a member organisation, the women who take part in our apprenticeship programmes will be trained as Tech We Can Champions and encouraged to join our role model community. This will help empower more women to inspire others through our existing platforms and networks - and also within the local communities where they live and work.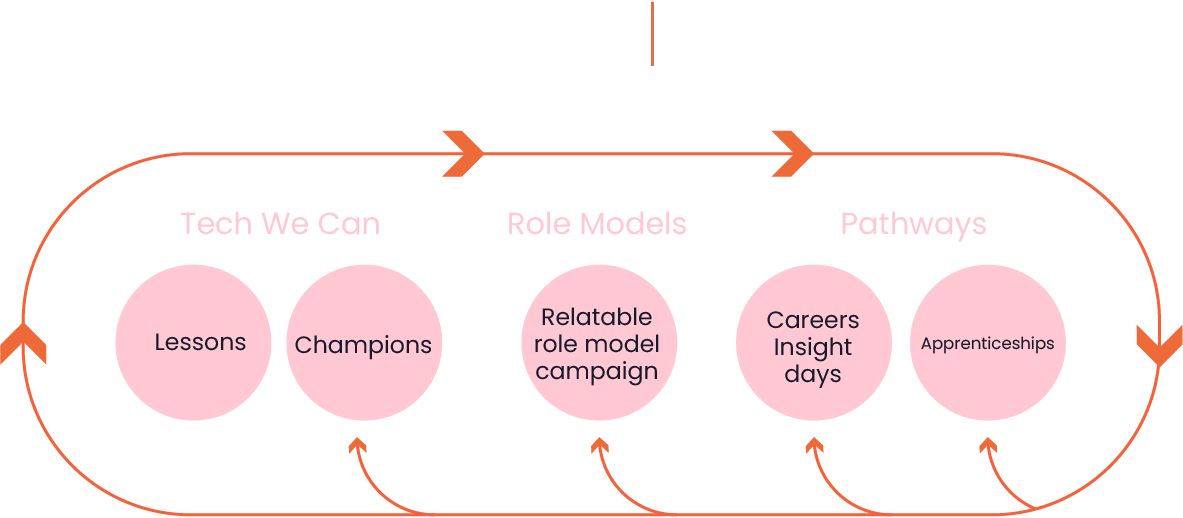 Our impact
3.
Influencing change
We're a charitable organisation and wouldn't have been able to achieve this impact, so soon, without our members, especially our strategic partners: Centrica, Computeam, Credit Suisse, Deutsche Bank, Discover, Google, Morgan Stanley, Nationwide, NatWest Group, PwC UK, Tesco, Unilever, University of Birmingham, UST and Zoopla.
From generating funding through donations and sponsorships, to sharing knowledge and insights which shape the work we do together, to providing volunteers for our programmes - their support is truly invaluable.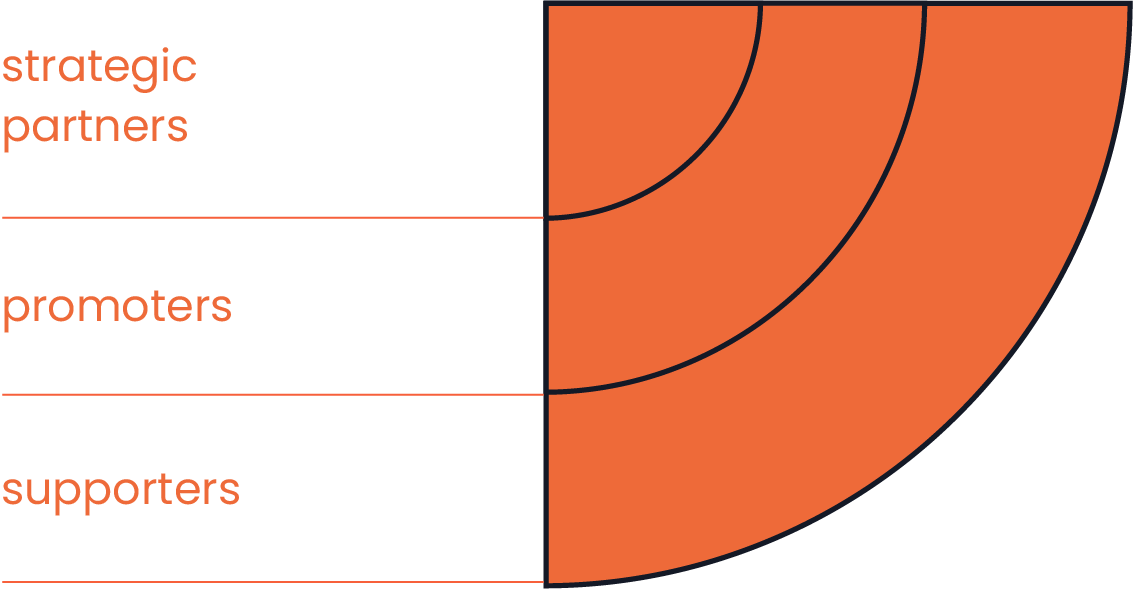 A diverse and vibrant community
Since becoming a charity, we've grown our membership by 15% and focused on engaging our member organisations to better understand and identify challenges and areas of mutual interest. We've also been able to offer a range of personal and professional development opportunities for individuals from within their organisations - whether that's as a trustee, steering group member, Tech We Can Champion, role model, or secondee into the core team.
Our membership is truly diverse in terms of the size of organisations and geographic and sector coverage. By bringing together all these different perspectives, resources, and experiences, we're using our power of collaboration to develop the most effective solutions for a more inclusive, diverse and sustainable tech sector.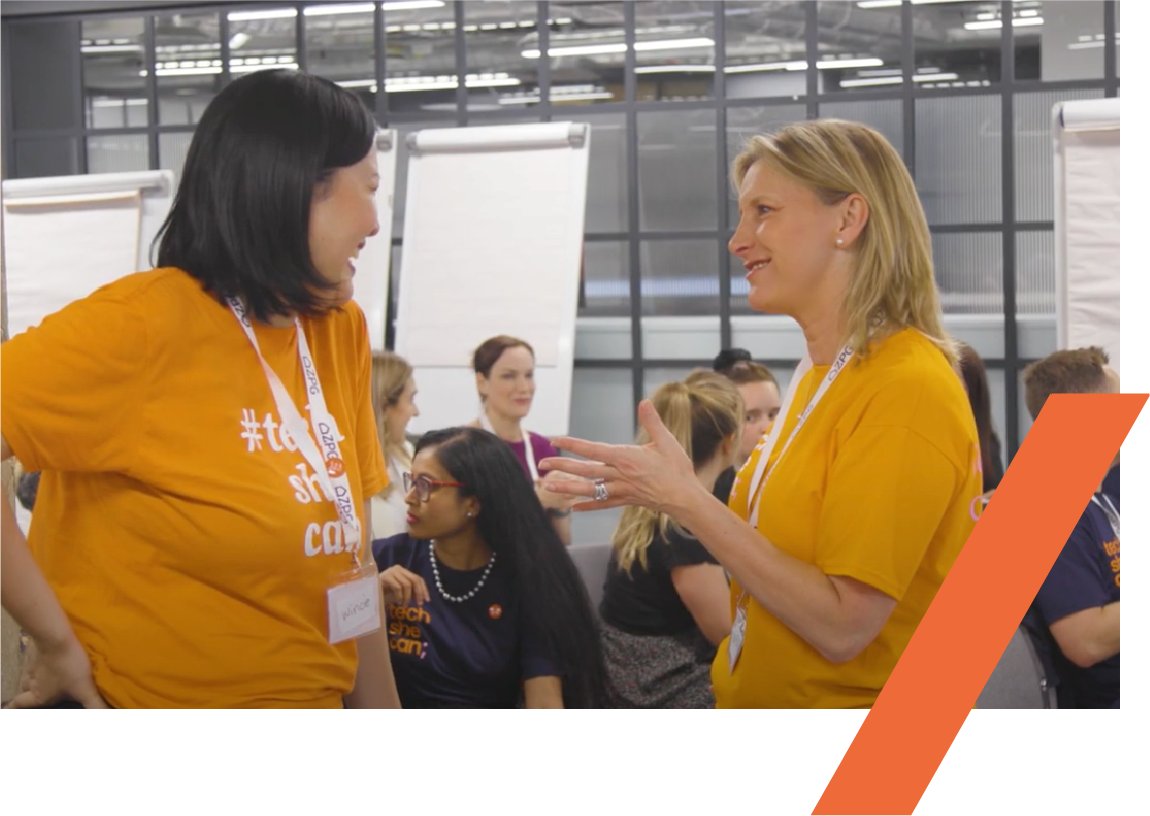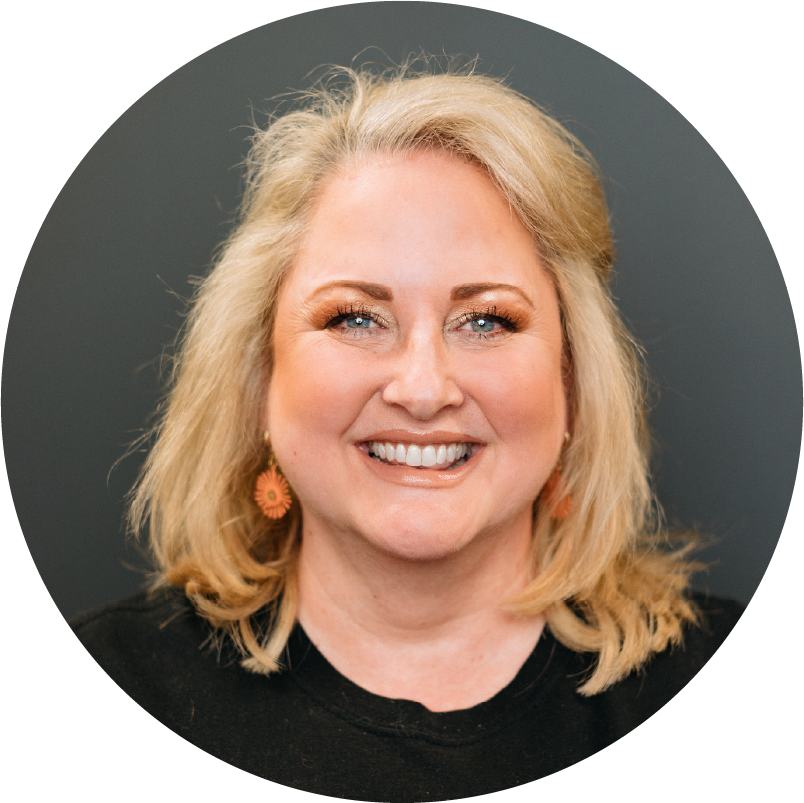 "The Tech We Can Champions at Zoopla are helping support our partnership with Crisis to end homelessness by encouraging and educating young people from challenging backgrounds to choose a career in tech."
Sandy Lacey-Aberdein, Head of Talent Acquisition at Zoopla
Our members span over 40 sectors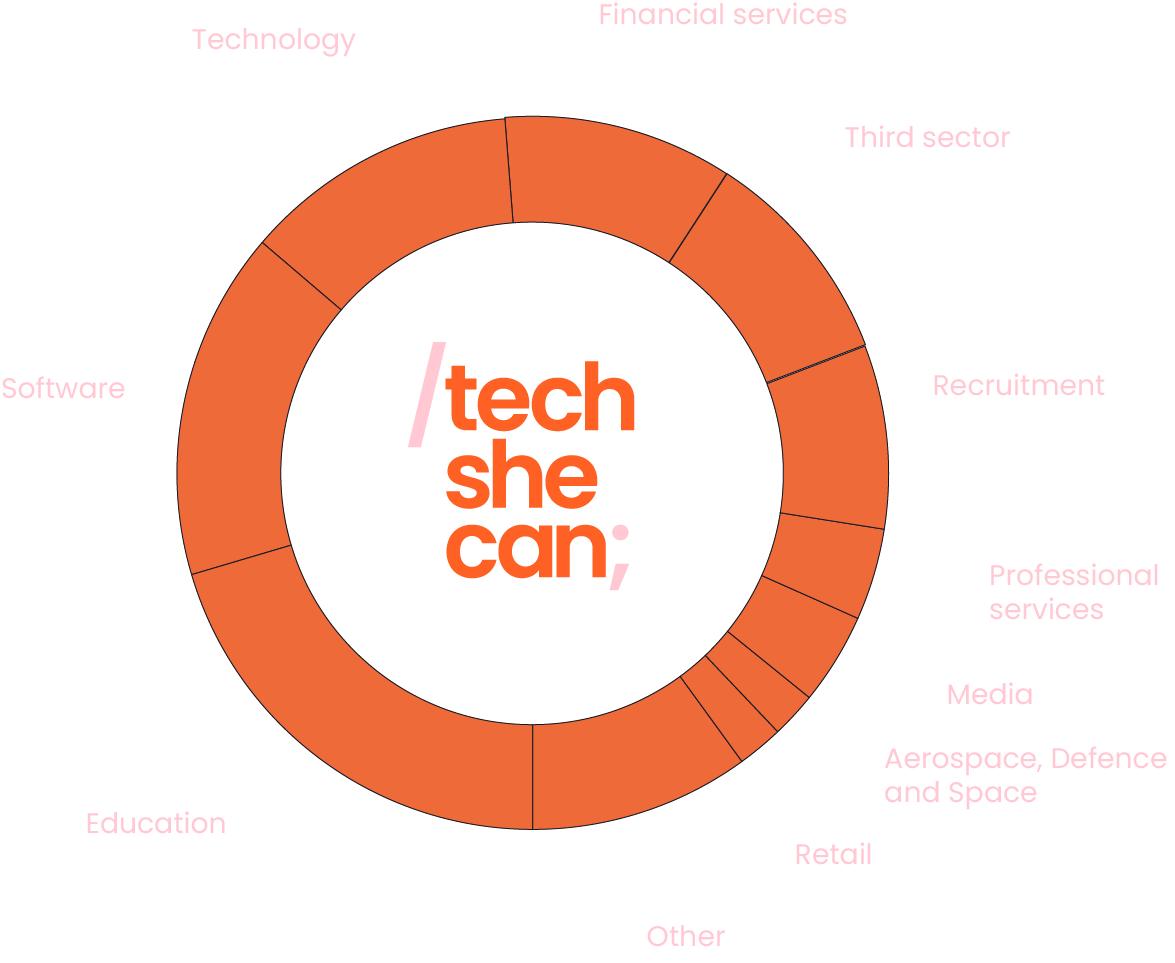 Collaboration is our superpower
We've built a unique community, committed to the common purpose of changing the ratio of women in tech and creating a more equal future, together. Over the last year, we've collaborated with:
educators (schools, teachers, careers advisers and Together Training);
skills and educational delivery partners (including Corndel, Gatsby Foundation, Makers, Multiverse, National Careers Week, Natterhub, Niyo, STEM Learning and Twinkl);
women in tech delivery partners (including everywoman, Tech Talent Charter, WeAreTechWomen, and Workfinder);
supporters and advocates across local and national government (including DCMS, Education Scotland, the Greater London Authority, the Mayor of London's office, and the West Midlands Combined Authority); and
our public and private sector members.
We're energised by our members' and partners' support. With a vibrant community, established brand, motivated team, and an extensive catalogue of resources in place, we're now in a strong position to establish deeper and sustainable relationships in classrooms across the UK and to launch new initiatives for women beyond school-age.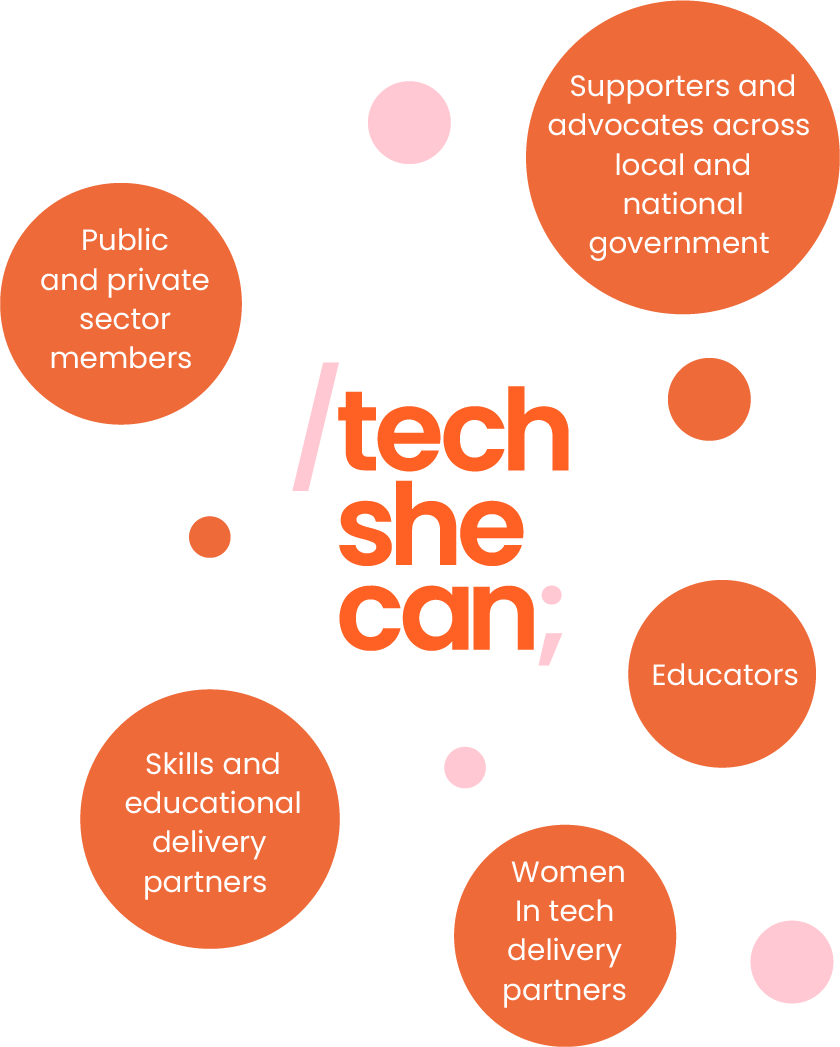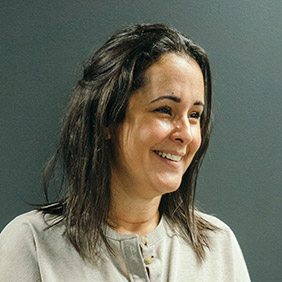 "Having supported Tech She Can from its inception, I'm delighted at the impact it's having to attract more girls into STEM and more women into tech roles. As trustees, we're confident the charity will continue to exceed expectations."
Auriol Stevens, Chair of the Board of Trustees at Tech She Can, and Vice President, CIO Workplace Experience at Kyndryl UK Limited
In 2022/23, we're looking to inspire even more children and young women to pursue technology careers. As we transition from being a new charity to an established, critical part of the 'women in tech' ecosystem, our focus will be on:
launching initiatives for women, post-school age, to provide the first inclusive and comprehensive UK-wide careers programme;
continuing to grow our community of Tech We Can champions;
delivering more regional initiatives for repeat and sustained engagement in classrooms;
expanding our role model community, sharing more compelling stories from women working in tech;
bringing our members together throughout the year to create more engagement opportunities; and
going global, as our resources are translated into more languages for use in the UK and internationally.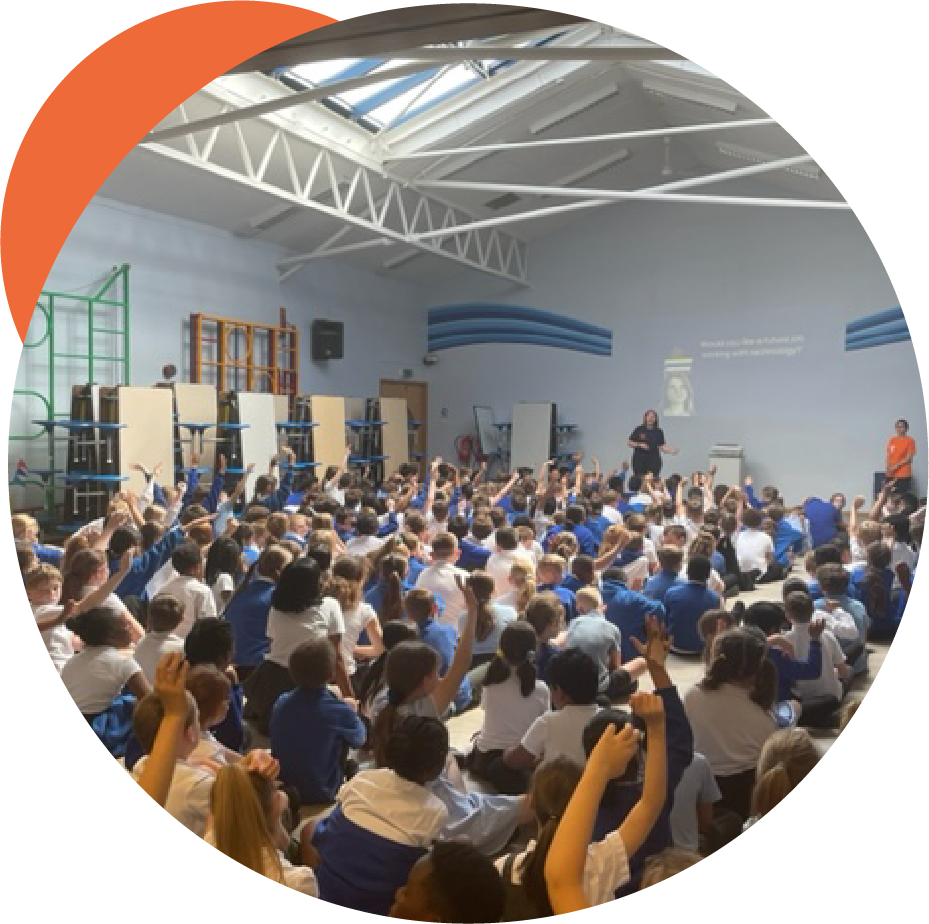 To do all this, we'll be taking further steps towards becoming financially independent and sustainable, diversifying and expanding our core team, and consolidating our member portfolio to address sector gaps and focus on deeper, more strategic partnerships.

We're excited for the future.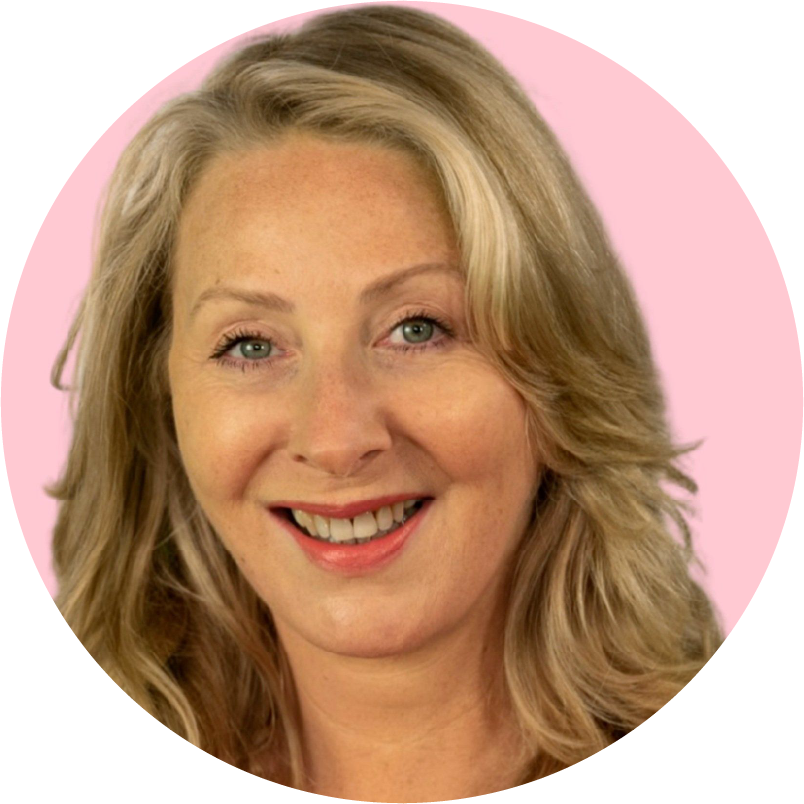 Sheridan Ash MBE
Co-CEO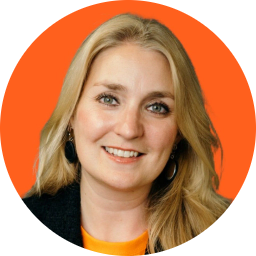 Dr Claire Thorne
Co-CEO
Thank you
With many thanks to our core team, trustees, strategic partners, and steering group members. Your support, both financially and in terms of the valuable skills, knowledge, experience and shared passion for diversity in tech that you bring, allows us to do the work we do! Thanks also to our summer intern, Rodrigo Dias, the PwC design team, and Flat Earth for their contributions and support in creating this report.
Reporting timeframe for our 2022 Impact Report is 23 July 2021 (the date we achieved charitable status) to 31 August 2022